IT is HR's new wingman in wellness
Teaming up ensures your technology builds a culture of support for employee mental health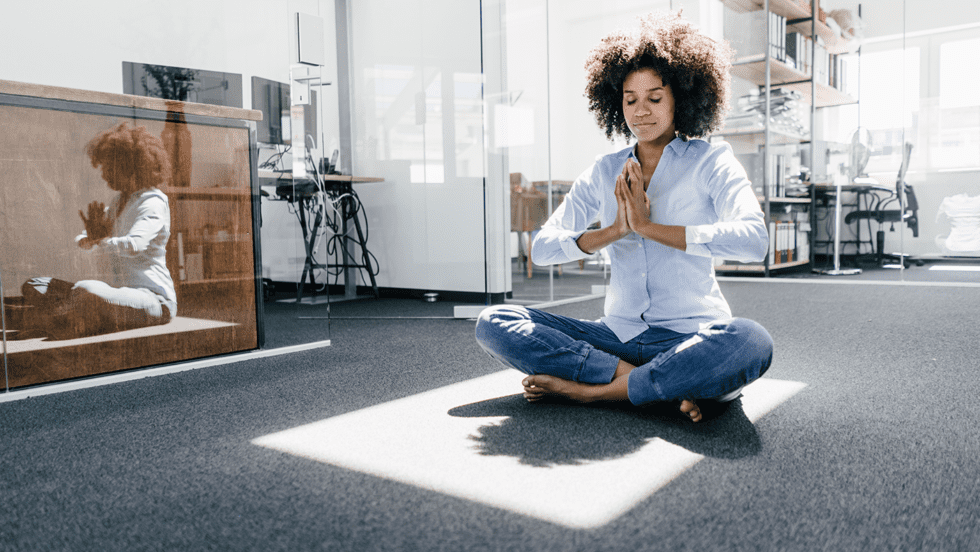 The transition to digital workplaces made the PC the new office. Technology became a lynchpin of employee experience, which was once solidly HR territory.
As a result, human resource's roles and IT's expanded responsibilities began to overlap, blurring the boundaries of each department. And while the two tussled over tech spend, employees left their jobs in droves due to burnout and stress.  
Businesses leaders of every order are concerned about the unhappy uptick. It's costing them. Mental health conditions such as depression and anxiety disorders cost the global economy $1 trillion per year in lost productivity, according to World Health Organization estimates. 
3 ways IT can work smarter with HR 
IT leaders can help. Team up with HR to create a culture of support at work and drive human-centered digital transformation — all without putting additional burden on IT teams. (Because no one wins if they're burned out, too.)
1. Bring greater value to onboarding and internal communications 
Recent research from insurance company The Hartford found that while 82% of employers said their workforce has more access to mental health resources than in previous years, only 50% of their employees said the same. That's a stark disconnect. Simply letting the workforce know what wellness features are available to them is an easy foundational building block in a culture of support. 
Collaborate with HR managers to identify ideal moments in the new employee onboarding process to communicate relevant wellness aspects of their work-provided technology: the ergonomic keyboard. The blue light-blocking screen. The pre-loaded meditation app. 
Be sure to highlight if their tech can flex based on their workstyle preferences, which helps people feel empowered to work how they want. For example, Lenovo's ThinkPad® X1 Yoga converts to three form factors (laptop, tablet, and tent); it's helpful to show new employees the pen discreetly garaged in the chassis that can be used when the ThinkPad is in touchscreen mode.  
Follow up by contributing to HR internal communications or emails. Offer tips on how to use any company-provided wellness apps, share recommendations for digital tools or email management features, or highlight any new software updates that have the potential to make employees even a fraction less stressed. 
2. Team up to survey employees about their hybrid experience 
Increased workload and unclear work-life boundaries are top contributors to burnout and stress, according to McLean & Company's HR Trends Report 2023. Regardless of whether your company has struggled with turnover, it's helpful to understand what employees need and want now to feel successful and supported. What defines these contributors to stress? 
Conduct a survey with HR that includes questions such as: What technology helps you most with your current workload? Do you have enough flexibility in your schedule? What digital tools would help you feel more in control of your day? 
Lenovo's recent Smarter Solutions survey of global employees found they value smart features that promote mental and physical well-being by helping them be productive. Among their most coveted smart features were a webcam privacy shutter, 5G connectivity, and AI-based noise cancellation. 
By surveying employees, IT gleans valuable information for the next round of purchasing while HR gains fresh insight into talent retention. 93% of employees who feel their physical workspace allows them to be more productive are more likely to recommend working for their employer, but only 16% of who feel the opposite are likely to do so, according Qualtrics 2022 Employee Experience Trends. 
3. Skill-share across departments to drive purpose for all 
Purpose is a powerful weapon against disengagement and mental fatigue at work. McLean & Company's 2023 research found workers with a high sense of purpose are nearly two times less likely to report burnout. They define purpose as a quality that's "built by engaging in opportunities for personal growth through the completion of meaningful or intellectually stimulating tasks." 
Lenovo's Smarter Solutions research similarly found that modern employees want their work to be more meaningful. 75% say they seek purpose-driven work that provides opportunities to have a positive impact on society. 
How purpose develops in any organization depends on many factors, but an easy strategy anyone can implement is bringing HR and IT teams together to teach each other different skill sets. Team members presenting their knowledge will feel a mastery over their subject matter as well as a sense of purpose in educating colleagues of the broader team.  
This community-building cross-pollination of skills brings potential company-wide benefits as well. According to McLean & Company's research, 68% of HR organizations that perform well in DE&I have high proficiency in technical skills, which includes digital literacy and technology enablement — something IT teams can help them learn. Technical skills are also associated with an HR organization's likelihood to adapt quickly to change, according to the report. 
A transformed workforce prioritizes mental health 
In the new age of work, IT and HR teams must act as one in many unexpected ways. By working together from onboarding and beyond, the departments can align strategically to bring added value to the company at large, smooth communications when it's time to discuss any shared technology budget between the two, and — most importantly — build a culture of mental wellness within their company that unlocks opportunity for all. 
Lenovo can help transform your business's wellness strategy with smarter end-to-end technology solutions. Learn more at www.techtoday.lenovo.com/SmarterSolutions.
Watch the latest episodes of LNIT