No turning back: Rethinking the conference room for hybrid work
A new generation of meeting spaces feature high-quality cameras and advanced analytics to optimize the attendee experience – and give people a reason to return to the office.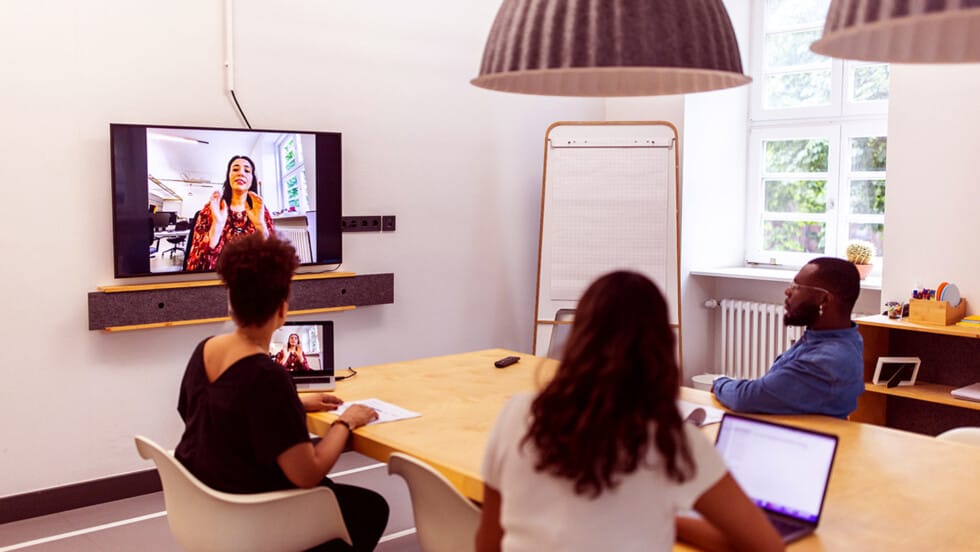 As IT and business leaders reimagine the office for hybrid work, the conference room is morphing into a smart collaboration space designed to boost meeting productivity and bring experience parity to employees, regardless of their location.
In the new hybrid workplace, conference rooms featuring speakerphones with scratchy audio and poor connectivity seem as outdated as dial-up modems. High-quality audio and intelligent video are now a requirement for re-creating the intimacy and immediacy of in-person engagement for everyone joining a meeting, whether they're in the room or connecting remotely. Raising the quality of the meeting-room experience is also a critical step for enticing employees back into the office, even if it's only for two days a week or once a month.
"Free lunches and beer on Fridays are no longer the lures to get people back into the office—they want interaction with people and a better collaboration experience than they have at home," says Shannon MacKay, general manager of Lenovo's worldwide Smart Collaboration Business Group. "Reverting to the old ways will not get people to return to the office."
In response, employers are architecting new meeting spaces that promote secure collaboration in an easy and consistent way. They are investing in smart collaboration platforms, next-generation cameras, and other audio/video enhancements that help people identify who's talking at any point in time, provide galleries of meeting attendees, and deliver an intuitive on/off experience.
Central to these smart collaboration spaces are enhanced compute power, robust security capabilities, and an end-to-end approach that ensures consistency across the entire office footprint. AI and analytics capabilities also play a critical role in delivering insights that help teams understand how shared spaces are being utilized, enabling them to make modifications like temperature adjustments or seating reconfigurations to increase comfort and promote participant engagement.
"Understanding behaviors and how people experience group settings can help workplace and facilities management make better decisions about rooms they manage now and create new dynamics for the future," MacKay explains.
A renovation roadmap
When reimagining shared spaces to effectively power hybrid work, consider three guiding principles:
There is no one-size-fits-all playbook. For some aspects of hybrid work, there's no playbook at all. Needs vary depending on company size, organizational structure, and preferred methods of collaboration. You'll want to re-assess your on-site equipment and room layouts, then create a roadmap for deploying smart collaboration solutions that best match your organization's hybrid work requirements. "Seek out advice from consultants who can perform site assessments and provide guidance on what works," MacKay explains. "Analytics can also help by revealing how shared spaces are used."
Rethink traditional device deployment models. Refurbishing conference rooms and other meeting space areas to support intelligent collaboration can be costly. MacKay suggests a "Collaboration-as-a-Service" model to help reduce up-front costs and avoid being locked into aging technology. "Creating these smart collaboration spaces is not a light lift," MacKay says. "Collaboration-as-a-Service provides some flexibility to adapt and evolve set-ups over time to stay current with new camera technology, AI advances, more compute power, and other enhancements."
Start small. As with any major technology initiative, it's best to do a proof of concept before initiating a major overhaul of every meeting space in the office. Pick one room to test drive smart collaboration capabilities, study how people use the space, and adjust as you go along. "You have to understand how facilities need to evolve to accommodate hybrid work," says MacKay. "Let the analytics guide you."
Want more? Watch the Hybrid is hard episode of Lenovo Late Night I.T. Season 2.
Watch the latest episodes of LNIT