We asked: How can CIOs support their organizations' DE&I goals?
IT leaders have an opportunity to advocate for different perspectives and experiences that not only make for a better workplace, but also fuel inclusive tech.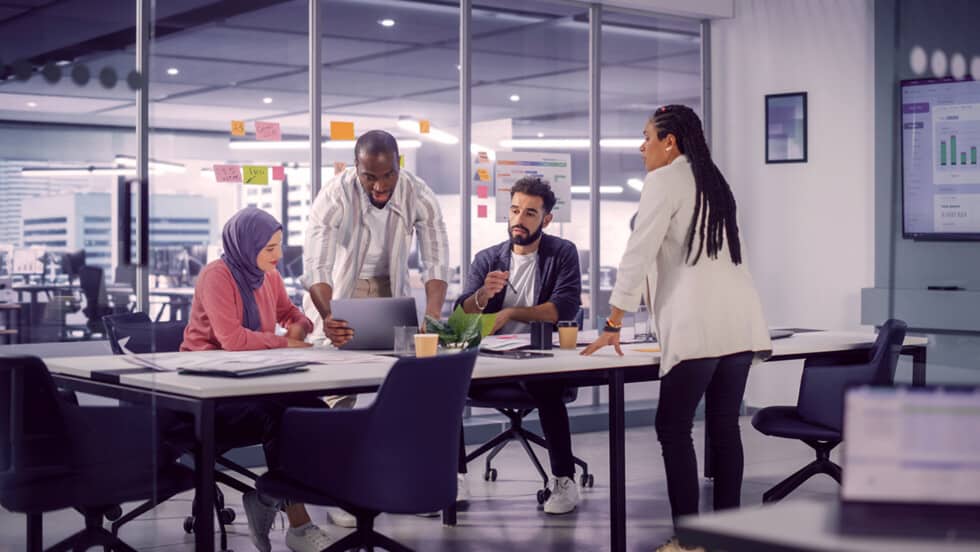 The CIO role has become synonymous with transformation, with IT leaders driving initiatives to enhance employee experience, expand problem-solving capabilities, improve customer engagement, and champion innovation. One of the more impactful ways to spark IT-enabled innovation is by bringing different voices, skill sets, and experiences to transformation initiatives. That's just one of the many reasons CIOs are well situated to play a lead role in diversity, equity, and inclusion (DE&I) initiatives.
Research shows that workforce diversity has a direct correlation to an array of core business objectives, including stronger financial performance, building talent pipelines, and employee engagement.
"Diversity and inclusion aren't just important to society—they are essential tools for maximizing business value today," says Peter Nichol (@PeterBNichol), chief technology officer at OROCA Innovations.
We asked our CIO Experts Network, a community of IT professionals and technology industry influencers, about the CIO's role in supporting an organization's DE&I objectives. Their responses indicate that CIOs are primed to help lead the DE&I charge because technology is central to making the workplace more inclusive, while the IT organization itself stands to benefit from the various skills and perspectives that come from a more diverse workplace.
Leading by example
CIOs need to lead by example, defining what it means to have diverse teams and empowering people to ask questions and challenge the status quo. By forging ongoing relationships and connections, showing empathy, and supporting the growing needs of today's individuals, CIOs are well situated to make the organization more inclusive and supportive, says Peggy Smedley (@connectedworld), president and editorial director of Specialty Publishing Media.
The CIO's position brings legitimacy to the DE&I message, particularly among developers and other technical staff. "When a CIO becomes a vocal supporter, they can bridge the gap from the back office to the people doing the work and speak to the DE&I outcomes in terms their team understands," says Will Kelly (@willkelly), a content and product marketing manager focused on the cloud and DevOps.
Accessibility is an important element of DE&I, and here too, CIOs can make a difference. IT leaders should work with their teams to determine the accessibility and disability needs across the workforce and deliver the tools that provide everyone with equitable access to the technology they need to do their work, says Debra Ruh (@debraruh), CEO of Ruh Global Impact and executive chair of Billion Strong, an identity and empowerment community for people with disabilities.
Diversity of thought is an important component of a more diverse workforce, which further benefits ideation and innovation. "CIOs should seek people who lead blue-sky brainstorming sessions and can facilitate inclusive discussions and collegial debates on solutions," says Isaac Sacolick (@nyike), president of StarCIO and author of "Digital Trailblazer." "Supporting DE&I can have significant business impact and help create differentiating, digitized products and services."
Making DE&I work in IT
Beyond their role as an enterprise DE&I champion, CIOs can take a number of steps to ensure diversity in their own IT organization. Among them:
Be transparent. IT has long been a predominantly white male profession, which makes it all the more important that teams understand the reasoning behind DE&I objectives and their value to the overall mission. CIOs must do more than parrot corporate mandates and policy—they should prioritize face time with DE&I groups, one-on-one evaluations with mid-level managers, and meetings with HR staff to address disparities in wages, bonuses, and work hours.
"Once an organization's entire staff understands the need for underrepresented employees to be heard and valued, the CIO can set the tone by performing an honest, internal assessment of the employees and culture," says Scott Schober (@ScottBVS), president and CEO at Berkeley Varitronics Systems Inc.
Infuse DE&I into IT operations. Recognize that DE&I is part of the work, not separate from the work, notes Afua Bruce (@afua_bruce), author of "The Tech that Comes Next," and principal of ANB Advisory Group LLC. "Consider the demographics of your team – who is not represented in conversations, whose opinion is not respected during discussions?" Bruce says. "Create processes that allow people to submit their ideas and have them considered independently."
Empowering employees with the tools to develop deeper, more impactful human connections is also key to promoting diversity, says Joanne Friedman (@joannefriedman), CEO at Connektedminds. "Focus on driving teamwork and collaboration, including sharing goals and good communication to the benefit of the customer," Friedman says.
Build diverse pipelines. Nurturing a robust talent pipeline is essential in light of ongoing IT skills shortages. Building bridges to underserved communities needs to be part of that mix. There are tactical steps IT leaders can take, such as creating job descriptions in a way that attracts applications from a broader talent pool, suggests Kieran Gilmurray (@KieranGilmurray), CEO of Digital Automation and Robotics Ltd. "Mentoring, creative networking opportunities, promoting flexible working hours are just some of the things CIOs can do to help underrepresented IT talent thrive," says Gilmurray.
Designing tech-enabled community engagement programs that bring CIOs' experience to socioeconomically and geographically diverse audiences and packaging up organizational knowledge in accessible, no cost, self-paced certification programs can also help move the DE&I needle, says Michael Bertha, vice president at Metis Strategy. "These programs allow a high school graduate to develop the skills needed for an IT role traditionally reserved for graduates of four-year colleges," he explains. "They build brand awareness earlier and provide an opportunity for your team to make a difference."
Getting the IT organization to understand—and embrace—the idea that diverse perspectives make a difference when building and deploying successful IT systems is perhaps the most impactful way CIOs can influence and promote the DE&I agenda.
"We all have different paths in life, and that means we all have different perspectives," notes Pamela Rucker (@pamelajrucker), an instructor on leadership, strategy, and innovation with Harvard Professional Development. "The real focus should be on finding the difference that makes a difference."
To tease out those differences, Rucker suggests asking two simple questions: What do you think we can build, buy, or brand that other people are willing to pay us for? And how does technology help us do that? "Asking questions that give me a voice is critical," she says, "because when you understand that my perspective helps you win, you won't just support DE&I – you will champion it."
Want more? Watch the Disrupting #techsowhite episode of Lenovo Late Night I.T. Season 2.
Watch the latest episodes of LNIT